"I AM XARTHAR! I NEVER LOSE!" - Xarthar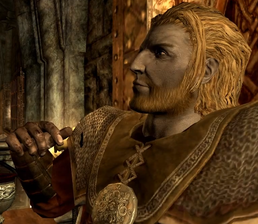 Xarthar is an Imperial "Lord" the gang comes across in Season 2. He is the owner of the Castle of Time.
Apperance in the show
In Season 2, Episode 13, the gang find themselves in a huge castle known as the Castle of Time. Xarthar rules here, and gives K'Joor the task of finding all of his friends before time runs out. When the Khajiit returns with his companions, Xarthar is enraged, and an epic duel ensues. He is beaten, and thus allows the gang to travel forth.
Comparison to Dark Souls
Many people have wondered if this character is at all connected to the character Xarthar from Dark Souls. It is still not clear, but the resemblance is quite striking.
Trivia
Xarthar doesn't move in his chair during their first encounter. This is because he refused to sit still during recording, and Dark had to freeze him in place.